mind the f
act
in your city / in your country / in your community
Mind the fact is an artistic initiative founded in 2016. It is an innovative model of artistic production based on true stories told by the people who experienced them. The aim is to turn our gaze to the Other. Within the mind the fact network, professional artists foster collaborations with non-artists: local residents of urban and non-urban areas, refugees and immigrants, people who were occupied with excessive gambling in the past, homeless and european citizens who live below the poverty threshold, teenagers living in shelters, foster-care children, trafficking victims and more. Concealed or unspoken issues and excluded or hidden protagonists of real life come into light and present themselves, claiming their own space through art. The performances, exhibitions and events of mind the fact are created in carefully designed long-term artistic workshops. The first mind the fact festival took place in Athens in May 2017 introducing a 'micro-cosmos' through different locations around the city center. Entrance was free for everyone. The presented artworks negotiated diversity, multiculturalism and biographical narrations on stage, whereas the festival participants proposed to five thousand spectators a world, if not better, at least more sincere.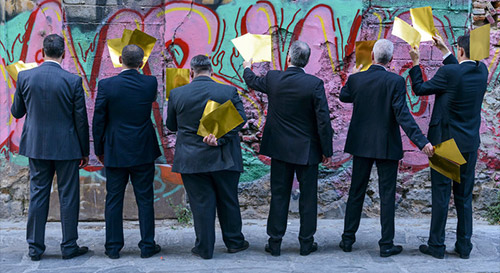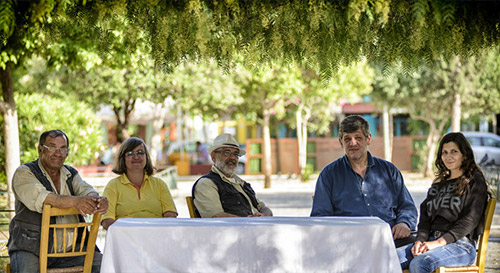 Concept- Curation
Ioanna Valsamidou & Yolanda Markopoulou
Artistic & Educational Team: Ioanna Valsamidou, Elina Giounanli, Antigone Gira, Eleni Efthimiou, Maria Zavakou, Demetris Zachos, Daphne Kalaphati, Maria Makrinikola, Laura Maragoudaki, Yolanda Markopoulou, , Sophia Mavragani, Yioula Blesiou, Yiouli Nasi, Margarita Papadopoulou, Panayiotis Papafragkos, Chrysoula Plakioti, Magda Pleyraki, Eleftheria Roussaki, Niovi Stavropoulou, Vicky Strataki, Pauline Huguet.
Communication Advisor:
Paris Mexis
Production Manager:
Maria Dourou
Production:
Polyplanity Productions
Great Donor:
Stavros Niarchos Foundation
Comments of the workshop participants
Giannis Fokas, Dinner
-My life after theatre has not changed but I can tell it got better. I had always the need to address the audience and that's what I did through radio; I was not familiar with theatre. What I like in the group is the direct communication with people, that we meet the audience and share our opinions, have a dialogue, listen to each other. I feel eight or nine times happier and grateful!
Chalil Alizada, Station Athens Group
– I have always wanted to be an actor. I came to Greece and after a few years of job-seeking and learning the language, I decided to follow my childhood dream. I travelled, I learned stories, I met new people, I opened my mind, I felt acceptance; all through theatre. I felt complete and I learned to have hope again!
George, The Gamblers
-From observer and bystander of feelings, I became an observer of how art is created and then I acquired the desire to create in art and in everyday life. Setting goals and having a schedule, as well as team work became parts of my life. I am more active and focused, more confident and coherent; less impatient, anxious and pessimistic. I live, I take in, I enjoy, I include, I feel, I do, I take part, I co-exist in the present.
Andreas, The World of Grownups
– I initially thought that theatre needs a lot of time, strict structure and a defined subject. I changed my mind when we started the workshop. We get to know each other through games and the subject of the performance was shaped. I managed to cooperate, speak my mind, have fun, always combined with some serious work. I was satisfied by my work, the time spent with everyone and the result.
Athina, On Perfection Island
– The warmth and the tenderness I felt helped me realize that this is the way to stop judge myself and others. I decided to follow my dreams to realization and I understood that difficulties do not last forever!