Welcome to a participatory experiment  and a unique «postal» exhibition of Photography.
Welcome to the Buffalo Fire Woman Project
The Buffalo Fire Woman project is an experiment of participatory photography that took place in the high Colorado Plato of the South Western United States, in winter 2018. Art Therapist and Photographer Dafni Kalafati travelled extensively in the dessert empowering native pueblo women to tell their own story though the photographic lens.
Using mostly disposable cameras and basic equipment the women participating in the project capture moments of their reality, making statements and expressing dreams.
The result is a work in progress participatory visual collage of the pueblo identity today expressed by the pueblo women themselves.
The colorful mixture of the Pueblo Indians is one of the oldest cultures in the American Continent. All pueblos, doted in the vast emptiness of what is today called New Mexico, still preserve their original culture, religion and language.
Pueblo Indian villages have remained on the same place since they were first inhabited and are supposed to be some the oldest settlements of the Americas.
The pueblo people are  "a country within a country" and all of them are proud of their unique heritage, history, language and culture, which is celebrated during various feast days and ceremonies every day of the year.
Please browse through the women who participated to learn more about them and their homeland.
Now their pictures travel over the Atlantic and land exactly at your doorstep.
To see the actual exhibition and receive a printed compilation of the photos please send us your name and postal address by email to amaka.arte@gmail.com
Then, on your mail you will find further instructions on how you will be able to send your message back to the women who participated and start a dialogue.
When the experiment is over we will showcase all photos and answers on this page and we shall go forward organizing a zoom conference with the artists, activists and academics around the notion of homeland/ space and personal expression.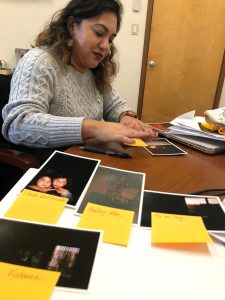 Artist name:  Rachael Lorenzo 
Age: 29
Family Status:  Married
Education:  Masters in Public Administration
Current Occupation: Assisting Commissioner
Religion: Native
Language(s) spoken:  Keres, English
Rachael Lorenzo (Mescalero Apache/Laguna Pueblo/Xicana) is a queer parent of two and lives in Albuquerque, New Mexico. They were born in Las Cruces, New Mexico to young parents and were raised on their father's ancestral land in Laguna, New Mexico. Rachael graduated with a BA in political science and a Masters in public administration, focusing on public health; both degrees are from the University of New Mexico. Rachael studied political campaigns, participated in policy analyses, and has been consulted for their expertise in public health policies that could impact Indigenous communities. Rachael was not only raised on traditional values but also on politics. Throughout their academic career, Rachael volunteered for political campaigns, ranging from city council elections to presidential campaigns. Rachael was selected as a fellow for President Barack Obama's 2012 reelection campaign, Obama For America (OFA). Currently, Rachael is not only part of Indigenous Women Rising but also serves as an appointee: Assistant Commissioner of Engagement and Tribal Liaison at the New Mexico State Land Office, under the first Latina and woman to serve as Land Commissioner, Stephanie Garcia Richard.
Pueblo:
LAGUNA  / Kawaika/
Number of Inhabitants:  3.000
Distance from the closest urban Centre:  Albuquerque
Schools in the pueblo:  Laguna Elementary, Laguna Middle School, Laguna-Acoma High School: Head start -pre school
Language Spoken:  Keres oral
Written Language: YES
Matrilineal
Tribe:  Pueblo of Laguna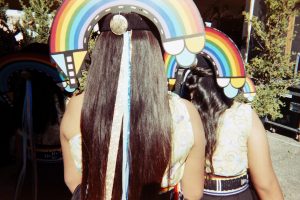 Artist Name:  Mallery Quentaki  
Age: 33
Family Status: mother of two
Education:  BA in Biology
Current Occupation: Artists- Research Scientist
Religion:  Traditional Zuni
Language(s) spoken:  Zuni, English, and American Sign Language
Mallery Quetawki is a mother of two and a member of Zuni Pueblo.  She received her bachelor's degree in Biology with a minor in Art Studio from the University of New Mexico in 2009.  Mallery is currently the Artist-in-Residence with the Community Environmental Health Program (CEHP) at the University of New Mexico-College of Pharmacy.  Mallery has created culturally relatable art to translate scientific ideas, health impacts and research on abandoned uranium mines that are currently undergoing study in several Indigenous communities.  Her work ranges from acrylic paintings, painted wooden crafts, pottery, greeting cards and coloring books.  Mallery's work is influenced by her traditional Zuni upbringing and indigenous ways of knowing.  She continues to carry on her cultural obligations as traditionally as modernly possible. 
Pueblo:
ZUNI/ A:shiwi – The people  Itiwana/ The Centre Place
Number of Inhabitants:  10.000
Distance from the closest urban Centre: Albuquerque
Schools in the pueblo:  Two high schools, one middle school, K5 Elementary School, 2 K8 Christian Catholic Schools, College, A:Shivi College
Language Spoken: Zuni and English
Written Language: YES
Matriarchal
Tribe: Zuni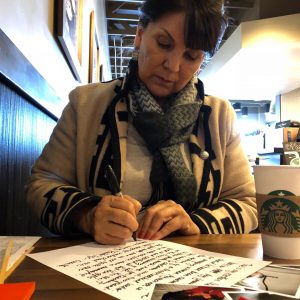 Artist Name:  Rita Jojola
Project Name: PUEBLO WOMEN DEFINING LIFE'S PURPOSE
Age: –
Family Status:  mother of 3, grandmother of 5 , and great grandmother of two
Education:  Dual Associate's Degree, BA in Science
Current Occupation:  Pueblo of Isleta Elder Centre Director
Religion: Native
Language(s) spoken:  Tiwa, English
Pueblo:
ISLETA / SHEI –WHEPH-TIEH / the white flint village
Number of Inhabitants 4000
Distance from the closest urban Centre: Albuquerque
Schools in the pueblo: Head start program, K6
Language Spoken: Tiwa
Written Language: NO
Tribe: Pueblo of Isleta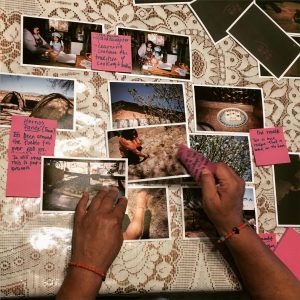 Artist Name:  Norma Naranjo
Project Name: "Looking at pueblo Legacy Through Food"
Age: –
Family Status:  Married
Education:  Master in Social Work
Current Occupation: Entrepreneur
Religion:  Catholic, Native
Language(s) spoken:  Tewa, English, and Spanish
I am a person that grew up in Ohkay Owingeh and I am very proud of my community and I have taken on the skill that I mastered at a young age and I have continue to teach and educate people throughout the world and the younger generations how to bake, farm, and cook with what we grow,  with what we have always grown. That s why I feel I have to keep on the legacy of the pueblo people through food.
www.thefeastingplace.com
Pueblo:
OHKAY OWINGEH  /the place of the strong people
Number of Inhabitants:
Distance from the closest urban Centre: Santa Fe,
Schools in the pueblo: 1 public school, 1 community school
Language Spoken: Tewa
Written Language: NO
Tribe: Ohkay Owingeh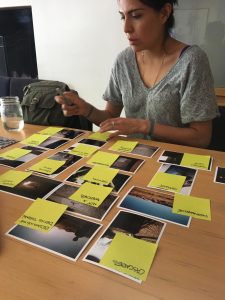 Artist Name:  Tasha Nelson
Project Name: "Reconnection"
Age: 28
Family Status Forever alone
Education Graduate School
Current Occupation Librarian
Religion:  Spiritual
Language(s) spoken:  Tewa, English, and Japanese
My name is Tasha Nelson and I am a Tewa woman from the Pueblo of Santa Clara (Tewa is a particular type of Pueblo person).  I am hoping that my photos represent my experiences as an indigenous person who grew up in the desert and valley areas of Northern New Mexico as well as in the urban world of the United States.  Pueblo life encompasses many things that are beautiful and simple.  We make pottery from clay gathered in the canyons; respect the land and rivers by utilizing only what we need, and hold values of our ancestors whilst balancing the demands of dominant society.  My tribal people are matrilineal by nature, which is why I find it important to combat the harsh narratives of dominant society, particularly those that view indigenous women as violable, by forging my identity and finding strength in my experiences that make me a Tewa woman.
Pueblo:
SANTA CLARA / the cotton wood place/ Kaa Poe Owingeh )
Number of Inhabitants:
Distance from the closest urban Centre: Santa Fe, 20 m
Schools in the pueblo:  1 day school
Language Spoken: Tewa
Written Language: NO
Tribe:  Santa Clara Tewa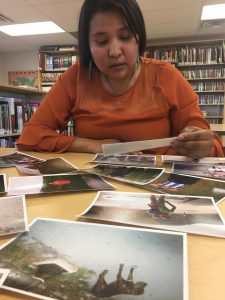 Artist Name:  Tracey Charlie 
Age:  32
Family Status:  Single
Education:  College
Current Occupation:  Learning technician
Religion: Pueblo Catholic
Language(s) spoken:  English, Keres
Guuwah Dzi, hobaah, duu shin'no meh Hiiwaist'a Huwaku Hanu, my name is Tracey Charlie, from the Pueblo of Acoma, known to many as "Sky City," or in our Keres language "Aku." My community is located west of Albuquerque and is one of the 19 federally recognized Pueblos in the state of New Mexico.
My parents are Kimberly & the late Ernest Charlie.  I am the second oldest daughter out of four girls and a mother of a 10-year-old son named Antonio.  I am currently the Education/Library Manager for the San Felipe Pueblo.  I previously worked for the Pueblo of Acoma at the Acoma Learning Center as the Director. I graduated from New Mexico State University in Creative Media Technology.
I fell in love with photography at a young age, and I was fascinated with the idea of capturing memories that would last a lifetime. Photos genuinely can tell 1,000 stories or more. The Buffalo Fire Women Project allowed us to be apart of the movement that gave a voice to Pueblo women. We expressed and told our stories through photos of our ancestry, culture, and tradition as indigenous women. Storytelling has been apart of our inheritance that has allowed us to continue to teach future generations. Movements such as these enable the world to see life through our eyes.
Pueblo:
ACOMA /Aku-/A place prepared
Distance from the closest urban Centre: Albuquerque
Schools in the pueblo:  Elementary Middle School
Language Spoken:  Keres
Written Language: NO
Tribe:  Acoma pueblo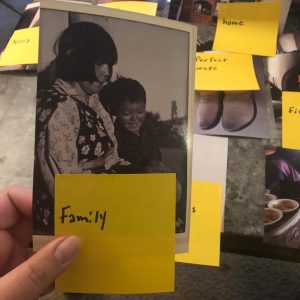 Artist Name:  Jennifer Marley
Project Name: "Passing moments"
Age: 23
Family Status:  In a domestic partnership
Education:  B.A in Native American Studies and American Studies, Certificate in Peace and Justice Studies
Current occupation: Graduate Student
Religion:  Native Spirituality
Language(s) spoken:  English, Elementary Tewa and Spanish
Jennifer is a community organizer, and scholar. She has been active in traditional participation since birth and comes from a family with roots in San Ildefonso as well as Zia Pueblo. Her family on her maternal side are well-known potters, Including Dora Tse-Pe (Grandmother), and Candelaria Gachupin (Great Grandmother).  Jennifer has made a name for herself as an activist with her participation in the UNM Kiva Club and Native liberation organization. Some of the campaigns Jennifer was involved in made National headlines, such as the campaign to Remove UNM's Racist seal, and The Abolishment of The Santa Fe Entrada. Both of which have accomplished meaningful victories.  After graduating this past May with a BA in Native American Studies And American Studies, she continues in the American Studies PhD program at UNM.  Jennifer has done many public talks and has several articles published with The Red Nation, The Funambulist magazine, and Indigenous Goddess Gang Magazine.  It is Jennifer's dream to return to her Pueblo and continue organizing, learning, and sharing knowledge with her people. 
Pueblo:
SAN IDELFONSO   Poe-Wo-Geh Owingeh / where the water cuts through /
Number of Inhabitants:  800
Distance from the closest urban Centre: Los Alamos
Schools in the pueblo: Sunday school
Language Spoken: Tewa/English/Spanish
Written Language: NO
Tribe: Tewa