Dinner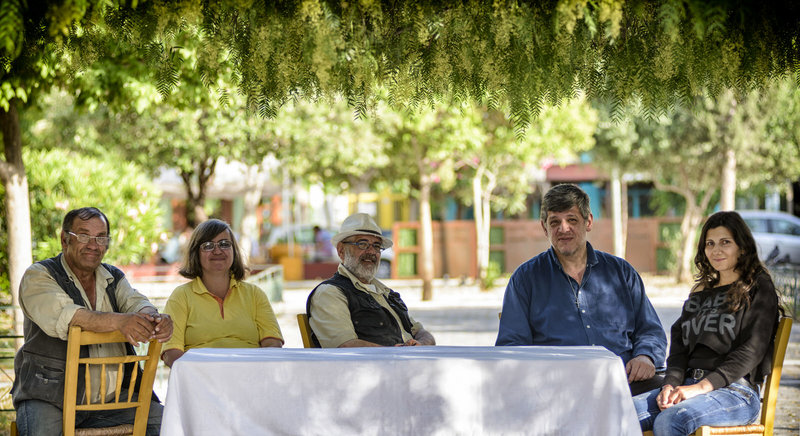 Τhe Dinner is a workshop with the participation of people who have experienced homelessness and/or live below the poverty line and it is an invitation to share stories and get to know each other.
The workshop Dinner operates since December 2016 and it resulted in the creation of a performance/dinner with hosts people who have been homeless or live below the poverty line. The members of the group presented a participatory performance and they summoned the audience around a dinner table to discuss issues which are often "hot potatoes", like love and friendship.
The Dinner was first presented in mind the fact festival (May 2017) for six shows, in the garden of the Greek Archaeologists Association. It was then presented again for two shows in Technopoli as part of the festival of street paper Shedia in September 2017.
The workshop had began in 2012 from Amate Perfornance. Theater practices, physical exercises and improvisation techniques are deployed, while the issues discussed are chosen by the participants themselves. They try different ways of narrating their personal stories and experiences by applying tools of instant composition and interpretive techniques.
The workshop and the performance have enriched the capacity of the participants to articulate and address their discourse and their voices and confidence were boosted. The emotions and the comments by the audience members after each dinner have confirmed the reciprocity of this relationship.
Press
People who have crossed the threshold of abject poverty became hosts to a different dinner- life lesson. During the dinner the audience is coy. Food and beverages usually remain untouched until the narrations are over. Despite the prodding of the participants, people cannot swallow easily. Ioulia points out that "We don't aim to trick them into emotion. We share our stories and we discuss. I like the people though who understand what they' ve heard."
"Dinner with five homeless people in Athens" Manos Fragioudakis, news247.gr
The Dinner (performance 2017)
Participants: Ioulia Simeonidou, Maria Gatou, Lambros Moustakis, Giannis Fokas, Maria Melekseni, Konstantinos Kapernaros
Workshop Facilitation: Sofia Mavragani, Eleftheria Roussaki
Idea- Creation: Sofia Mavragani, Eleftheria Rousaki
Supporters: SYNERGY-O, Shedia Street Paper
Photographs: Elina Giounanli